What is an Anesthesiologist Assistant?
An anesthesiologist assistant (not to be confused with a nurse anesthetist) is a non-physician anesthesia provider who practices anesthesia under the medical direction of an anesthesiologist.
The assistant works as an important member of the anesthesia care team. Anesthesiologist assistants are in high demand, because of the need for skilled personnel to deliver anesthesia.
If you want to be able to deliver first-class care to patients at some of the most critical times in their lives, this may be a great option for you!
What does an Anesthesiologist Assistant do?
An anesthesiologist assistant (AA) is a highly skilled professional who operates as an extension of the licensed anesthesiologist (specialist physician), and exclusively within the anesthesia care team environment, performing extremely important tasks that ensure the safety of the patient and ensure optimal health outcomes.
The assistant will operate anesthesia equipment, monitor patients, and provide quality anesthesia care.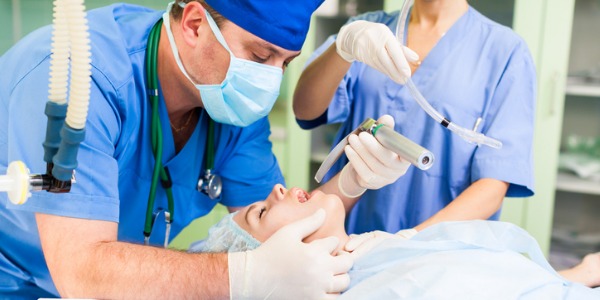 Anesthesiologist assistants accompany the patient before, during and after anesthesia to ensure quality and continued care. They are trained to assist in life-saving measures, such as CPR, and life support.
The duties of an anesthesiologist assistant may include the following:
Take a complete health history of the patient
Perform a physical exam to identify any issues that may affect the anesthesia care plan
Administer necessary diagnostic and laboratory tests (such as taking blood)
Prepare the patient to be monitored, using non-invasive and invasive methods, as determined by the physician
Assist with preparatory procedures (pulmonary artery catheterization, electroencephalographic spectral analysis, echocardiography and evoked potentials)
Pre-test and calibrate anesthesia delivery systems and monitors
Induce, sustain and adjust anesthesia levels
Ensure continuity of care through the postoperative recovery period
Assist with life support where required, including airway management
Perform functions in the intensive care unit and pain clinic
Perform administrative duties, research and clinical instruction
What is the workplace of an Anesthesiologist Assistant like?
Anesthesiologist assistants work in hospitals and surgery centers under the direction of a licensed anesthesiologist. The profession maintains a typical work week with options for on-call, evening or weekend assignments.
Anesthesiologist Assistants are also known as:
Anesthesia Assistant Anesthesia Technician Certified Anesthesiologist Assistant Certified Anesthesia Technician