What is a Registered Nurse?
A registered nurse is a valuable and an irreplaceable part of any healthcare system. They provide and coordinate patient care, provide advice and emotional support to patients and their family members, and educate patients and the public about various health conditions and on how to prevent future illnesses.
Their role covers the administrative, the medical, and the personal side of things as they assess and work with patients of all backgrounds and ages.
What does a Registered Nurse do?
Registered nurses are part of a healthcare ecosystem, and have a variety of tasks they take care of on a daily basis.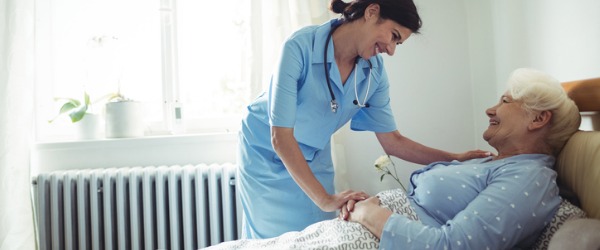 Registered nurses wear many hats, which may involve administrative duties, doing rounds, monitoring patients, changing dressings, performing patient assessments, administering medication, documenting care, interacting with family members who are distraught about the condition of their loved ones, and handling emergency situations.
Registered nurses also consult with other healthcare providers, and educate individuals and their families on healthcare. They are problem solvers, critical thinkers, and are empathetic towards their patient's needs.
With a combination of knowledge, experience, and compassion, registered nurses are an integral part of the medical team. Therefore, it is important that registered nurses stay up to date with any new technology and tools, as these skills help provide patients and families with the best care and also help to support the physicians they work with.
What is the workplace of a Registered Nurse like?
A registered nurse can work in a variety of places, and will typically contribute to a larger medical team's mission. They can specialize in areas such as cardiac care, pediatrics, family practice, geriatrics, labor and delivery, and emergency nursing.
They can be found in nursing care facilities, physician's offices, clinics, operating rooms, intensive care, ambulatory care, hospitals, schools, correctional facilities, home healthcare services, and the military. The job description can vary quite a bit depending on the environment and specialty.
In hospitals, nurses may be expected to work long shifts, including overnight shifts or weekends and holidays.
Frequently Asked Questions
What is the difference between a licensed practical nurse and a registered nurse?

A licensed practical nurse can perform simple and occasionally more complex procedures, but is under the supervision of a registered nurse or a physician. They keep records, administer basic care, are able to administer most medications, and can perform CPR. They have approximately two years of training and are licensed.

A registered nurse usually has a Bachelor's Degree in Nursing, along with many hours of clinical experience. They must also pass examinations before earning the registered nurse title. They provide direct care to their patients, as well as supervise orderlies, nursing assistants and licensed practical nurses.
Are Registered Nurses happy?

Registered Nurses rank among the least happy careers. Overall they rank in the 13th percentile of careers for satisfaction scores. Please note that this number is derived from the data we have collected from our Sokanu members only.

Such a low happiness metric in the nursing profession may well be rooted in the fact that nurses are very often, if not constantly, on the frontline of the healthcare system. They are the ones who must deal with frustrated patients waiting in the emergency room. They are the targets of questions like, 'Where the hell is the doctor?' 'Why don't you have my x-ray results yet?'

They are the ones whose work involves continuous, long-shift contact with sick and frightened patients and their stressed families. These circumstances can lead to burnout – and naturally, to unhappiness.

The nurses who are happy are no doubt those that find a way to understand and overlook the hostility that is sometimes directed at them, and to focus on the important and benevolent work that they do.
How long does it take to become a Registered Nurse?

The process of becoming a registered nurse begins in high school with an interest in and a dedication to the sciences. It continues with earning a nursing degree and obtaining and maintaining licensure.

Bachelor's Degree – four years (preferred by most employers)
Licensure – graduates can take their licensing exam right away, or study for a few months beforehand
What are Registered Nurses like?

Based on our pool of users, Registered Nurses tend to be predominately investigative people. Whether they are working in hospitals, clinics, physicians' offices, home healthcare settings, critical and long-term care facilities, government organizations, the military, schools, or rehabilitation agencies, registered nurses must consistently call upon their investigative talents to provide the best patient care that they can.
Should I become a Registered Nurse?

As is the case with any professional field, there are certain character traits and skills that accomplished nurses tend to have:

Communication / interpersonal skills
As the critical link between doctors and patients and families, nurses must constantly call upon their abilities to connect with, listen to, and advocate for patients; and to collaborate with colleagues.

Respect
Respect is paramount in medicine: respect for patient confidentiality; respect for different cultures and traditions; and respect for colleagues.

Empathy
Pain and suffering cannot be alleviated by empathy and compassion, but it can most definitely can be soothed. Patients often view nurses as the gentler side of the medical system and look to them for understanding and compassion.

Emotional stability
Nursing is stressful work. Its practitioners are consistently exposed to human suffering and often to traumatic circumstances. The capacity to remain composed and kind in the face of difficult, challenging, and sad situations is a trademark quality of the best nurses.

Critical thinking / problem-solving skills
For nurses, challenges can arise in dealing with patients, with families, with doctors, with hospital staff, and of course when facing emergencies. The nurse who is able to think calmly, clearly, and critically evaluate options is best equipped to solve such problems and to do so as quickly as possible.

Attention to detail
In nursing, failing to notice a small detail or making a simple mistake – such as administering an incorrect drug dosage – can potentially result in a tragic outcome. Attention to detail can be the difference between life and death.

Flexibility
Like doctors, nurses are often required to work late or overnight shifts, weekends, and overtime. This is an unavoidable part of the job.

Physical stamina
The job involves physical tasks like lifting patients and standing for extended periods of time. This is no desk job, and the energy required to do it well, bears that out.

In addition to the qualities presented above, which are vital in nursing, consider as well these insights from those inside the profession:

I wanted a job that would allow me to make a positive difference in people's lives.

In nursing school I was fascinated by pharmacology classes. I loved learning the biochemistry or chemical pathways that make drugs work in the specific way that they do in the human body.

Nurses with a Bachelor's Degree have a wide variety of job opportunities, and Master's prepared nurses have the ability to move directly into leadership roles after graduation.

It's great to be a nurse in 2018 because in a world that is changing so fast, a nurse is sometimes the one person to hold a hand and explain all that is happening in terms that the anxious – and sometimes confused – patient can understand.

It's a great time to be a nurse because as technology advances, so does the profession.

Nursing is a profession that keeps on giving, with endless opportunities for specialization.
Registered Nurses are also known as:
Registered General Nurse RN