What is a Nurse Educator?
A nurse educator is a registered nurse with advanced training that educates and trains future nurses. They combine clinical expertise and a passion for teaching into rich and rewarding careers.
These individuals have a good grasp and in-depth knowledge of nursing theories, which they can easily explain. They are also skilled at basic and advanced nursing practices and are able to teach and demonstrate them to their students.
What does a Nurse Educator do?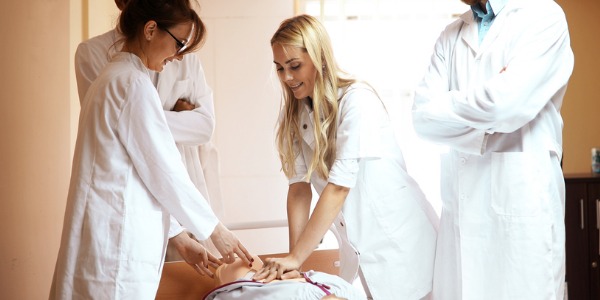 Most nurse educators work as nurses for a period of time before dedicating their careers to educating future nurses. They therefore have the ability to play a major role in supporting the nursing workforce. Nurse educators work both in the classroom and the practice setting, and are responsible for preparing current and future generations of nurses. They evaluate educational programs, develop lesson plans, teach courses, and oversee students' clinical practice. They may also choose to focus on areas of specialization, such as nursing informatics, geriatric nursing, or pediatric nursing.
Armed with excellent leadership skills and extensive knowledge of their fields, nurse educators can also act as mentors and advisers. They have a real passion for excellence in the nursing field and are excited to share their knowledge and watch future generations of nurses grow and blossom into well-trained professionals.
At times, nurse educators are asked to create new nursing courses or update old ones. These can either include formal academic programs, or more informal continuing education programs. They must therefore base their curriculum on the latest nursing trends and developments in order to properly design, implement, and revise these courses and programs. Most nurse educators opt to continue working as nurses and to continue participating in the nursing community in order to keep up with any latest developments.
What is the workplace of a Nurse Educator like?
Nurse educator positions can often be found in nearly any facility that offers nursing classes. Nurse educators practice in hospital-based schools of nursing, community colleges, universities, technical schools, health care facilities, and long-term care facilities. They work with high school graduates studying nursing for the first time, nurses working towards advanced degrees, and nurses interested in expanding their knowledge and skills.
Nurse educators may work a nine-month academic calendar or all year long, and do not have to work 12-hour shifts or overnight hours, as clinical nurses often do. Nurse educators may divide their time between campus and a nearby hospital or other health care facility. Much of their day is spent in an office or a classroom, preparing for classes, advising students, giving lectures, attending faculty meetings, grading papers, doing research, and keeping up with current nursing knowledge.
Nurse Educators are also known as:
Nursing Instructor Nurse Instructor Nursing Educator Nurse Teacher Nursing Teacher