What is an Amusement Attendant?
Do you love amusement parks? Working as an amusement attendant may be a fun part-time job.
An amusement attendant is responsible for the operation, maintenance and safety inspection of rides at theme parks and attractions. It is a popular choice as a seasonal or part-time job. Attendants can work together or alone to operate a ride, and will interact with people of all ages. They may also run booths, which range from selling concessions to managing small games and prizes.
What does an Amusement Attendant do?
The duties of an amusement attendant will vary depending upon the type of ride, attraction or booth. Some attendants are trained to work at only one location for the entire shift, while others may be trained to work at several or all locations at the park.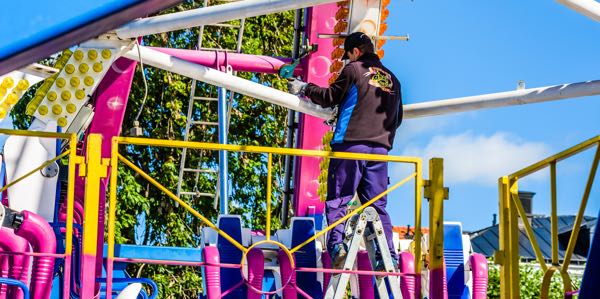 Some general responsibilities of an amusement attendant are:
- Selling food and drinks to customers
- Handling money
- Selling and handing out tickets or coins
- Operating game booths, including setup and prize distribution
- Cleaning equipment, rides, booths, or grounds
- Answering any questions that people may have regarding rules, prices, and times
- Directing people to attractions upon request
- Monitoring and admitting people to rides, usually by collecting tickets or money
- Managing lines of attractions
- Informing riders of any rules, safety regulations, or prohibited items on the ride
- Insuring that all riders of an attraction are safe and are complying to park rules
- Fastening or providing riders with safety equipment and instructions for safety devices
- Dealing and removing unruly riders and attraction goers
- Keeping a record of attendees, sales
- Making notes of needed maintenance
- Being prepared for an emergency evacuation and prepared to inform others
- Working collaboratively with other staff to operate rides or sell at booths
- Training new employees on the operations of the park and rides
Attendants may also use the following tools and equipment:
- Ticket punches
- Cash registers
- Sporting equipment
- Loudspeakers or microphones
- Telephones
- First-Aid supplies
What is the workplace of an Amusement Attendant like?
Amusement attendants are found at major theme parks around the country, such as Six Flags, Disneyland, Disneyworld, Legoland, Orlando Studios, and Seaworld. They are also found at recreational facilities such as ski resorts or water parks.
Attendants must be able to stand for long periods of time and will often need to interact with customers. Hours are irregular and there is often evening and weekend work.
Amusement Attendants are also known as:
Ride Operator Amusement and Recreation Attendant Amusement Ride Attendant Amusement Park Attendant