What is a Barista?
Barista is the Italian word for barkeeper. While a barista in Italy serves all kinds of drinks, the term in English-speaking countries has come to refer to someone who is specially trained in preparing and serving espresso-based coffee drinks, primarily in coffee shops.
Baristas are often masters of latte art, creating intricate images and designs when pouring milk foam on to the espresso. In addition to being coffee artists, though, they must be knowledgeable in the complexities of coffee, the types of roasts, blends, and flavor subtleties.
As inspired coffee drinks have become increasingly popular, baristas are assuming the role of coffee sommeliers. In much the same way as wine sommeliers understand and share the intricacies and nuances of wines, baristas engage their customers with their sophisticated knowledge of coffee.
What does a Barista do?
Great baristas are essential to the success of any coffeehouse or bar, as many customers will return for the great service and, most of all, a perfectly brewed coffee.
Baristas usually operate commercial espresso machines by preparing and pulling shots. Preparing the shot refers to the grinding of the beans and the dosage amount in the drink. Baristas are usually trained and notified of specific guidelines to follow depending on the drink. At times, more experienced baristas can even experiment with their own styles of preparation.
Depending on the machine, the whole process of preparing a drink may be fully automated or fully manual. The job typically involves a mixture of both. For example, a machine may be semi-automatic, meaning that pressure is applied automatically, though brew times are set manually. Other machines are fully automatic, where the barista only needs to load the beans and let the machine do the rest of the work.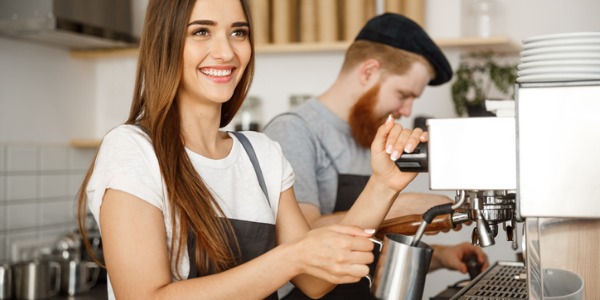 Creating the perfect coffee drink is at the heart of what baristas do, and love to do. But the job commonly includes other duties as well.
During a typical work day, most baristas will also:
- Welcome customers
- Sell coffees and explain coffee drink menu options
- Educate customers by explaining differences in coffee beans and roasts
- Operate both automatic and manual grinders and pressers
- Keep equipment clean and operating; troubleshooting breakdowns
- Demonstrate and sell coffee grinding and brewing equipment
- Take payment from customers
- Restock shelves and coolers with baked goods, snacks, bottled drinks, etc.
- Wipe down countertops, tables, and chairs
- Clean up spills
- Sweep the shop floor
- Take out trash
- Train new employees on shop operations and staff duties
So, while the job includes some not-so-glamorous aspects, dedicated baristas happily accept all facets of their work because they are coffee aficionados. They take pride in:
Following prescribed recipes and preparation techniques for a multitude of different coffee drinks: espresso, doppio, ristretto, lungo, cortado, macchiato, café noisette, cappuccino, dry cappuccino, Americano, affogato, breve, mocha, café con hielo, con panna, flat white, latte

Memorizing drink ingredients and specifications and being able to make modifications requested by customers

Establishing relationships with customers and being able to remember their preferred drinks

Generating revenue by introducing new and expanded products and services to customers

Enhancing shop reputation by fulfilling new and different requests and exploring opportunities to add value by re-designing processes and implementing changes

Improving quality results by studying, evaluating, and re-designing processes

Updating industry knowledge by participating in continuing education opportunities
To get a sense of the perhaps surprising complexity of a busy barista's job, consider this lengthy list of coffee drinks that customers may request throughout the course of a work shift:
AMERICANO / CAFFE AMERICANO
BLACK AND WHITE
BLACK EYE
BLACK RUSSIAN (alcohol)
BONE DRY CAPPUCCINO
BREVE (Espresso Breve)
CAFE AU LAIT (Café Au Lait)
CAFE BOMBON (Café Bonbon)
CAFECITO / CAFE CUBANO / ESPRESSO CUBANO
CAFE CON LECHE (Café Con Leche)
CAFE DECAFFEINE
CAFFE CREME (Caffè Creme)
CAFFE LATTE (Caffé Latte)
CAFE MOCHA (Café Mocha)
CAFE NOISETTE (Café Noisette)
CAPPUCCINO
CASCARA LATTE
COCONUT LATTE
COCONUT EGG COFFEE
CON LECHE
CON PANNA (Espresso Con Panna)
DEAD EYE
DEPTH CHARGE
DOPPIO ESPRESSO, DOUBLE ESPRESSO (Double Shot)
DRY CAPPUCCINO
ESPRESSO CREME
ESPRESSO CUBANO
ESPRESSO GRANITA
ESPRESSO BREVE
ESPRESSO CON PANNA
ESPRESSO DOPPIO
ESPRESSO GRANITA
ESPRESSO LUNGO
ESPRESSO MACCHIATO
ESPRESSO RISTRETTO
ESPRESSO ROMANO
EYE OPENER
GRANITA ESPRESSO
GRANITA LATTE
ICED CAPPUCCINO
IRISH COFFEE (alcohol)
LATTE
LATTE MACCHIATO
LONG SHOT
MACADAMIA MOCHA
MACCHIATO (Espresso Macchiato)
MOCHA
MOCHACCINO
MOCHA LATTE
PILE DRIVER (Pile-Driver)
RED EYE (Red-Eye)
ROMANO (Espresso Romano)
SHORT-PULL ESPRESSO (Short Pull Espresso)
SHOT-IN-THE-DARK (Shot In the Dark)
SHOT OF ESPRESSO
SOLO ESPRESSO
SPICY VIENNESE ESPRESSO
SPLIT SHOT ESPRESSO
TOFFEE LATTE
TRADITIONAL GRANITA ESPRESSO
VIENNESE COFFEE
VIENNESE ESPRESSO
WET CAPPUCCINO
What is the workplace of a Barista like?
The emergence – and explosion – of coffee culture around the world has vastly diversified the workplace options for baristas. While they, of course, work at coffee shops and cafés throughout the world (Starbucks, Seattle's Best Coffee, Tim Horton's, Blenz, and other chains and independent operations), baristas today have many other employment options.
Among the businesses that are embracing the global appreciation for great coffee by adding coffee bars to their operations are:
- High-end and luxury hotels and resorts
- Cruise ships
- High-end train adventure companies
- Department stores and boutiques
- Luxury car dealers
- Country clubs and golf courses
- Sports complexes
As the ritual of coffee-drinking continues to grow, so too will opportunities for individuals wishing to build a career around this beverage, which seemingly seems to almost magically brings people together.
Baristas are also known as:
Coffee House Employee Espresso Machine Operator Coffee Barista