What is a Healthcare Social Worker?
Healthcare social work is a specialty within the social work field. Healthcare social workers help patients navigate the world of healthcare by helping them access services and education related to health issues.
They can help individuals do everything from find medical care to help pay for medical care to recover from an illness or injury. This might include offering advice, acting as a patient advocate, or referring a patient to specific facilities or programs.
What does a Healthcare Social Worker do?
Healthcare social workers act as client advocates, educators, advisors, coordinators of care, and strive to preserve the healthcare and dignity of the population they serve.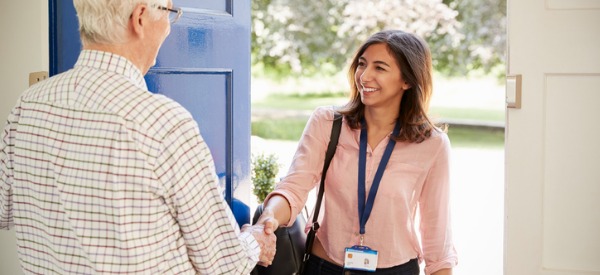 Assessing the needs of a patient is usually the first step that a healthcare social worker will take. This might involve interviewing the patient, their family, and their doctors. A thorough patient assessment will help a healthcare social worker determine what a patient's needs are, and how these needs can be met.
Healthcare social workers coordinate services such as home health care, medical equipment rentals, transportation for doctor visits, and other related activities. They help clients get admitted to inpatient and outpatient services, find funding sources, fill out paperwork, and find support resources for families. They assist with educational classes on things such as childcare, Alzheimer's management, living with cancer, and HIV. They are concerned with all components of health and mental health care. They also participate in and advise on healthcare policy, services, and legislative issues.
A career in healthcare social work often involves informing patients of their rights. In general, a patient's rights typically include — but, aren't limited to — such things as:
The right to:
- be treated with respect and dignity
- make decisions regarding healthcare
- choose a doctor that can give adequate care
- ask questions and have them answered in easy to understand terms
- be free of abuse, neglect, or exploitation
- know how much medical treatment will cost before undergoing any procedures
- access one's own medical information
- emergency medical treatment regardless of the ability to pay
Healthcare social workers typically work closely with a number of different individuals, including doctors, nurses, patients, and patients' families. They need to have or develop certain skills, such as listening, patience, critical thinking, complex problem solving, and organization. The focus of the job is to help people who do not know where to find help.
What is the workplace of a Healthcare Social Worker like?
Although most social workers work in an office, they may spend a lot of time away from the office visiting clients. They can be employed in clinics, hospitals, nursing homes, assisted living, mental health, and other health care settings.
Healthcare Social Workers are also known as:
Medical Social Worker Clinical Social Worker