What is a Massage Therapist?
A massage therapist treats clients by using touch and pressure to manipulate the soft-tissue muscles of the body.
With their touch, massage therapists relieve pain, rehabilitate injuries, reduce stress, increase relaxation, and aid in the general wellness of their clients.
What does a Massage Therapist do?
A massage therapist assesses and treats the soft tissues and joints of the body in order to improve circulation, treat pain from injuries, and maintain good health. This manual type of therapy includes manipulating and applying pressure to the muscles, tendons, ligaments, and fascia.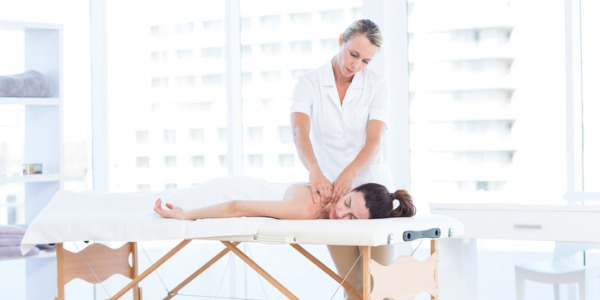 Massage therapists typically do the following:
Talk with clients about symptoms, medical history, and desired results
Evaluate clients to locate painful or tense areas of the body
Manipulate muscles or other soft tissues of the body
Provide clients with guidance on how to improve posture, stretching, strengthening, and overall relaxation
Massage therapists use their hands, fingers, forearms, elbows, and sometimes feet to knead muscles and soft tissue of the body in order to treat injuries and to promote general wellness. A massage can be as short as fifteen minutes or could last for more than an hour.
Massage therapists may use lotions and oils, massage tables or chairs, and medical heat lamps when treating a client. They may offer clients information about additional relaxation techniques or exercises to practice between sessions.
Massage therapists can specialize in many different types of massage, called modalities. Swedish massage, deep-tissue massage, and sports massage are just a few examples of modalities. Most massage therapists specialize in several modalities, which require different techniques.
Usually, the type of massage given depends on the client's needs and physical condition. For example, therapists may use a special technique for elderly clients that they would not use for athletes. Some forms of massage are given solely to one type of client; for example, prenatal massage is given to pregnant women.
What is the workplace of a Massage Therapist like?
Because massage therapists work by appointment in most cases, their schedules and the number of hours worked each week vary considerably. In addition to the hours spent giving massages, therapists may also spend time recording patient notes, marketing, booking clients, washing linens, and other general business tasks.
Massage therapists work in an array of settings, both private and public, such as private offices, spas, hospitals, fitness centres, and shopping malls. Some massage therapists also travel to clients' homes or offices to give a massage. Most massage therapists, especially those who are self-employed, provide their own table or chair, sheets, pillows, and body lotions or oils.
A massage therapist's working conditions depend heavily on the location and what the client wants. For example, a massage meant to help rehabilitate an injury may be conducted in a well-lit setting with several other clients receiving treatment in the same room. But when giving a massage to help clients relax, massage therapists generally work in dimly lit settings and use candles, incense, and calm, soothing music.
Because massage is physically demanding, massage therapists can injure themselves if they do not use the proper techniques. Repetitive-motion problems and fatigue from standing for extended periods are most common. Therapists can limit these risks by using good techniques, spacing sessions properly, exercising, and receiving a massage themselves regularly.
Frequently Asked Questions
How long does it take to become a Massage Therapist?

The road to becoming a massage therapist includes formal training, a licensure process, optional certifications, and a commitment to career-long continuing education.

In the U.S, legal minimum hours for obtaining a massage therapy license differ from state to state and range from 330 to 1,000 hours. Because the structure of education programs varies, students can fulfill requirements and obtain their license in a matter of weeks or may need up to two years to do so.
What are Massage Therapists like?

Based on our pool of users, massage therapists tend to be predominately investigative people. This finding is consistent with the demands of the work, as an investigative mindset is vital to succeed in the massage therapy field. It ensures that clients receive correct treatment based on careful observation and thorough assessment and evaluation.
Should I become a Massage Therapist?

Before committing to the profession, aspiring massage therapists should consider the skills and qualities it demands.

Comfort with frequent physical contact
Massage therapy is a hands-on profession. Practitioners cannot be squeamish about physical contact.

Physical health, strength, and attention to maintaining a reasonable work schedule
The work of massage therapists requires strength, dexterity, and the ability to stand for up to 90 minutes at a time. In health care settings, they may need to adjust their techniques around beds and medical equipment. Therapists who overwork their body risk tendonitis in the wrists, elbows, and shoulders; carpal tunnel in the wrists; tennis elbow; and trigger finger/thumb. Reputable schools suggest a 4-to-6-hour work day with breaks of at least 10 minutes between massages.

Mental and emotional health
Massage therapists have to build rapport and trust with their clients, while still maintaining appropriate boundaries.

Interpersonal skills
To understand their clients' conditions, objectives, and preferences; and to develop a loyal client base, it is imperative that massage therapists be effective listeners and communicators.

Decision-making abilities
A significant part of the massage therapist's job is evaluating clients' needs and formulating appropriate treatment plans.

Business skills
Marketing, accounting, and other business acumens are especially important for the many massage therapists who are self-employed.
Massage Therapists are also known as:
masseuse Licensed Massage Therapist Certified Massage Therapist Licensed Massage Practitioner Registered Massage Therapist Clinical Massage Therapist Deep Tissue Massage Therapist Medical Massage Therapist